Nutanix
Hyper-converged Infrastructure Solution
Nutanix's Acropolis software is a fully hyperconverged infrastructure (HCI) that provides storage, compute, virtualisation, networking, and security using x86 servers to power any application, at any scale. Nutanix even has its own hypervisor AHV (Acropolis Hypervisor) that allows you to replace VMware or Hyper-V, alternatively Nutanix fully integrates with VMware or Hyper-V to provide complete management of your HCI stack from a single GUI.

Works in these areas
Data centre supporting business critical infrastructure
Remote/branch office
Virtual Desktop Infrastructure
Lower-cost storage
High availability/disaster recovery in the cloud
Private or Hybrid Cloud
IT Challenges
Today's IT infrastructure is a difficult beast to tame. A typical data centre has multiple generations of servers, operating systems, hypervisors, and storage devices, often from multiple vendors. IT managers must juggle complex tasks, all while maintaining their legacy equipment.
Virtualising servers and storage can help to reduce complexity considerably but implementing data centre-wide virtualisation usually requires the use of multiple user interfaces and considerable IT knowledge and experience.
Nutanix Acropolis
Acropolis software unifies private, public, or distributed clouds, and empowers IT to deliver applications and data that power businesses.
Public cloud companies such as Microsoft Azure, Google Cloud and Amazon Web Services (AWS) provide enterprise IT teams with speed and operational efficiencies, but with varying costs. Alternatively, IT is looking to provide ways to deliver cloud elasticity on-premise, enabling businesses to easily migrate workloads at peak demand times. Acropolis can also control cloud costs migrating workloads to either Microsoft Azure, Google Cloud or Amazon Web Services (AWS) to maximise budgetary spend with a simple click.
Unlimited Scalability
Acropolis software can provide object, block, or file storage that is highly available and instantly scalable from Terabytes to Petabytes in an instant. Utilise HDD's, SSD's or NVMe storage to maximise and deliver, capacity, IOPS, tiering or data resiliency.
With the Acropolis software you no longer have to rip and replace your IT infrastructure. When newer processors, faster memory or larger storage devices become available. Simply add the new node and leave the software to move the information across the cluster. Nutanix manages and understands all available resources and provides real-time data analytics, it can even predict and advise when you are likely to need additional resources.
Nutanix Flow
Flow delivers advanced networking and security services, providing visibility into the virtual network, application-centric protection from network threats, malware, and ransomware and automation of common networking operations.
Fully integrated into the Nutanix private cloud solution and Nutanix AHV virtualisation, Flow allows organisations to deploy software-defined virtual networking and security without the complexity of installing and managing additional products that have separate management and independent software maintenance requirements.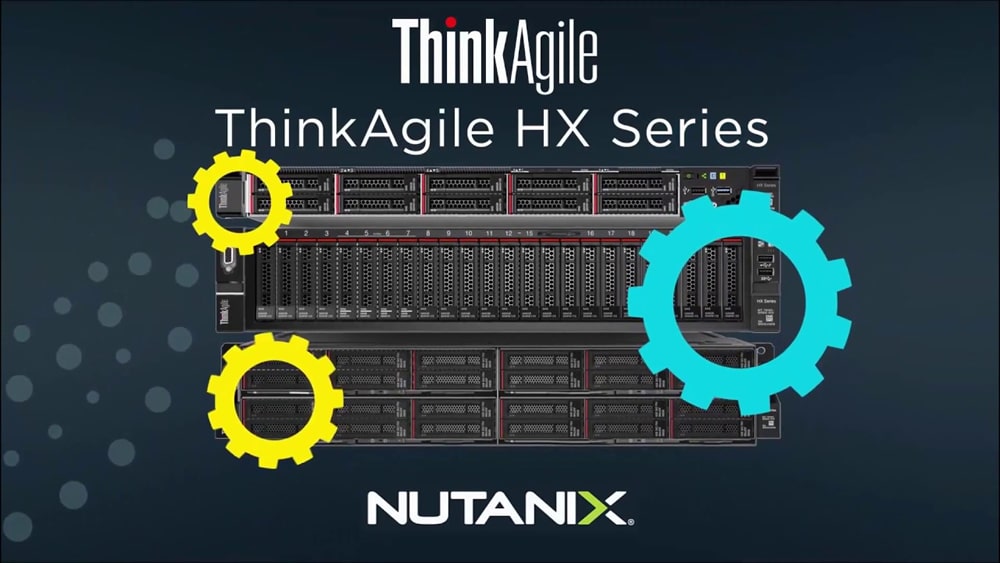 Nutanix Security
Nutanix combines features such as two-factor authentication and data-at-rest encryption with a security development lifecycle. This is integrated into product development to help meet the most stringent security requirements. Nutanix systems are certified across a broad set of evaluation programs to ensure compliance with the strictest standards.
TAA Compliant
Suite B
508 Compliant
FIPS Level 2 140-2
Common Criteria
SaltStack
Data-at-rest encryption is delivered through self-encrypting drives (SED) that are factory-installed in Nutanix hardware. This provides strong data protection by encrypting user and application data for FIPS 140-2 Level 2 compliance. Acropolis interfaces with third-party key management servers using the industry-standard Key Management Interface Protocol (KMIP) instead of storing the keys in the cluster.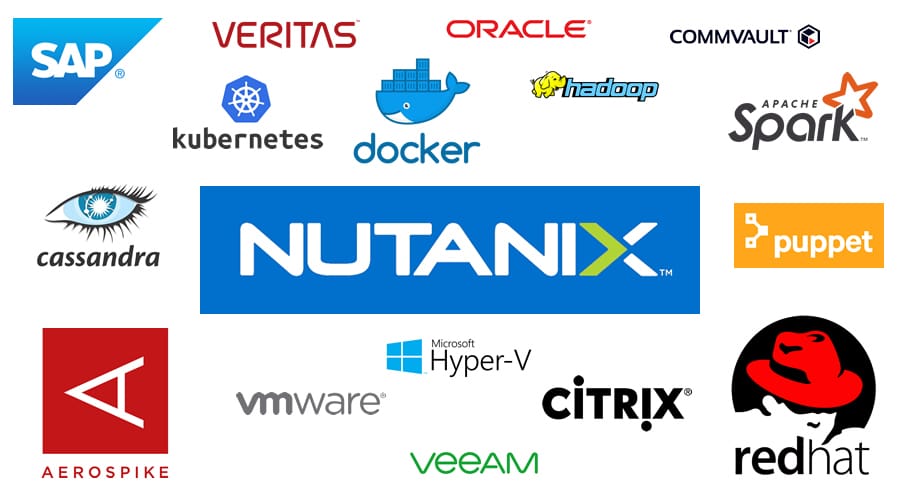 Lenovo ThinkAgile HX – Nutanix vSAN HCI Solution
Lenovo ThinkAgile HX runs Nutanix Acropolis hyperconverged infrastructure software to build and simply manage scale-out clusters through a single interface. Achieve even simpler IT operations by using Nutanix Prism for one-click provisioning, insights, and firmware updates. Lenovo XClarity, a fast and intuitive resource management tool, can be used in concert with Prism.

Lenovo ThinkAgile HX Series are fully validated and certified Nutanix nodes and appliances running the Acropolis software. They are designed for easy deployment and manageability in scale-out clusters with a choice of models and configurations to suit a wide variety of workloads and applications. The components of your hyperconverged solution are certified right down to the firmware on the drives and HBAs, to eliminate worries that firmware upgrades might break compliance.
Nutanix Licensing
ThinkAgile HX appliances include a bundled Life of Device license, which remains with the appliance for its lifetime. For customers who prefer to provide their own Nutanix software licenses, Lenovo offers another choice: the ThinkAgile HX Certified Node, which includes:
Fully validated and integrated hardware and firmware, certified with Acropolis software
Preloaded Nutanix software for ready deployment, Nutanix term license obtained separately
Flexibility to bring your own Nutanix term-based license, transferable to other HX certified nodes
Flexibility to provide your own deployment services or optionally use Lenovo Deployment Services
Getting started
Get up and running quickly with Nutanix HX integrated systems from ourselves a fully accredited and certified Lenovo DCG partner. The systems come fully ready to run and offer consistent, end-to-end customer support no matter whom you call.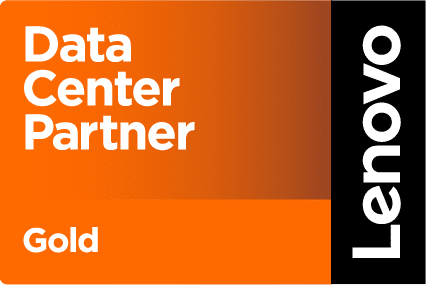 Pre-validated software updates delivered on a predictable schedule enable you to benefit from continuous innovation available from Nutanix.
Lenovo ThinkAgile HX are built with certified hardware components that allow businesses to deploy solutions quickly and easily. ThinkAgile HX Certified Nodes are available in multiple form factors 1U, 2U or 4U, with either 1 or 4 nodes per chassis.
Lenovo and Nutanix have partnered to deliver the Lenovo ThinkAgile HX Series Nutanix appliances, a best-in-class hyperconverged infrastructure solution with Nutanix's industry-leading software preloaded on Lenovo award winning server platforms.
Key Benefits
Simplicity: Lenovo XClarity extension integrates with Windows Admin Center from Microsoft, providing a unified single-pane-of-glass simple management experience across infrastructure, virtual machines, software, and hardware.
Flexibility: ThinkAgile HX Nodes offer a wide range of processor, memory, and storage options to provide the maximum flexibility for customizing your infrastructure.
Faster time to value: In traditional IT, a solution is designed, tested, implemented, and maintained requiring significant time and energy. With HCI, this burden has been transferred to the solution provider. Nutanix helps to solve the Hyperconverged Infrastructure challenges by choosing Lenovo ThinkAgile HX thus ensuring a robust and viable platform.
Lenovo ThinkAgile HX Certified Nodes are designed for deploying industry-leading Hyper-Converged Infrastructure (HCI) software from Nutanix on Lenovo enterprise platforms that feature the second generation of the Intel Xeon Processor Scalable family (Xeon SP Gen 2). They deliver fully validated and integrated Lenovo hardware and firmware that is certified with Nutanix software and preloaded with the Nutanix AHV hypervisor. Nutanix offers a unique, software-defined approach to hyper convergence, leveraging the hypervisor to deliver compute, storage, and management in a tightly integrated software stack.
All Lenovo solutions https://www.lenovofiles.com/3dtours/products/
If you would like to know more about the Lenovo ThinkAgile HX solutions running Nutanix Acropolis please contact us using the details below.