Data Backup and Recovery
Safeguarding Your Business: The Importance of Protecting Data
In the digital age, data has become the lifeblood of businesses, driving decision-making, enhancing productivity, and enabling growth. However, the increasing reliance on data also means that its loss or corruption can have severe consequences for organisations. That's where data backup and recovery come into play.
Data backup and recovery is the process of creating copies of your valuable information and storing them in a secure location. It acts as a safety net, ensuring that even if the original data is compromised, you can recover it swiftly. Here are some key reasons why data backup is vital for any organisation:
Protection against data loss: Data loss can occur due to various reasons, including hardware failure, cyberattacks, natural disasters, or human error. By regularly backing up your data, you minimise the risk of permanent loss and ensure that you have a recent and usable copy available for recovery.
Business continuity: In the event of a catastrophic event, such as a fire or a ransomware attack, data backup ensures that you can quickly restore critical information and resume business operations. This reduces downtime, minimises financial losses, and helps maintain customer trust.
Compliance and legal requirements: Many industries have specific regulations regarding data storage and protection. Implementing a robust backup system helps ensure compliance with these requirements, protecting your organisation from legal repercussions.
Competitive advantage: Data is a valuable asset that provides insights and enables informed decision-making. By safeguarding your data through backups, you gain a competitive advantage by leveraging accurate and up-to-date information.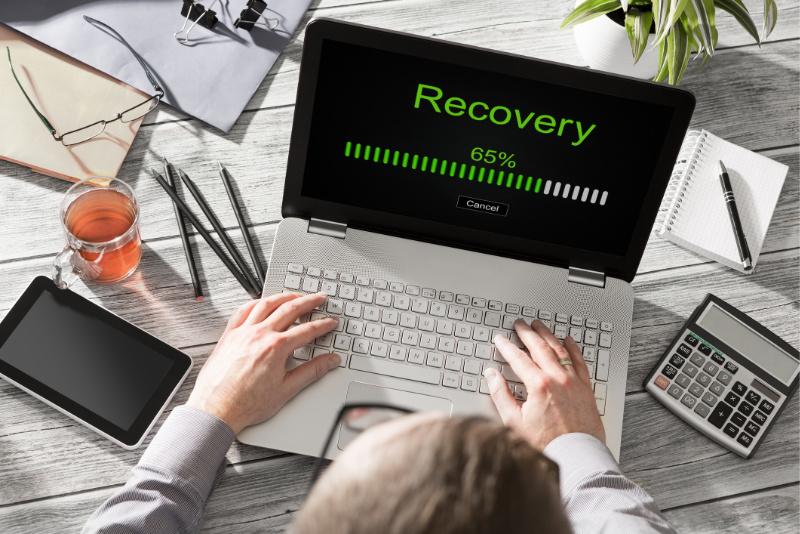 Implementing a Data Recovery Plan
While data backup is crucial, it is equally important to have an effective data recovery plan. Here are some essential steps to consider when devising your recovery strategy:
Define recovery objectives: Determine the recovery time objectives (RTO) and recovery point objectives (RPO) that align with your business needs. RTO specifies the maximum acceptable downtime, while RPO defines the maximum acceptable data loss.
Select backup methods: Choose appropriate backup methods based on your organisation's requirements. Options include full backups, incremental backups, differential backups, and cloud-based backups. Consider using a combination of on-site and off-site backups for added protection.
Test the recovery process: Regularly test your backup and recovery processes to ensure they work as intended. Conduct simulated recovery scenarios to identify any weaknesses and make necessary improvements.
Secure backups: Protect your backup files from unauthorised access or tampering by implementing robust security measures. Encryption, access controls, and regular vulnerability assessments are essential for safeguarding your backups.
Data Backup and Recovery Conclusion
In today's data-driven business landscape, data backup and recovery are non-negotiable components of any organisation's IT infrastructure. By implementing a comprehensive data backup strategy and a well-defined recovery plan, you can safeguard your business from potential data disasters, minimise downtime, and maintain continuity. Remember, the cost of investing in data backup and recovery is far less than the potential loss resulting from data breaches or catastrophic events. Prioritise data protection and ensure the longevity and success of your business in an increasingly interconnected world.
If you would like to know more about the backup software we supply click here, alternatively you can contact us using the details below.